FIRST COLLECTION is the first Korean studio album of SF9. It was released on January 7, 2020 with "Good Guy" serving as the title track. The physical album was released in two types: GOLDEN RATED and BLACK RATED.
Tracklist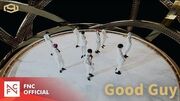 Good Guy

Am I The Only One

(나만 그래; Naman Geurae)

Shh

Lullu Lalla

(룰루랄라)

One Love

Like The Hands Held Tight

(널 꽉 잡은 손만큼; Neol Kkwak Jabeun Sonmankeum)

Fire

(타; Ta)

Stop It Now

(더 잔인하게; Deo Janinhage)

Dance With Us

(춤을 춤 거야; Chumeul Chul Geoya)

Beautiful Light
Featured Members
Commercial Performance
The album's promotional song, "Good Guy", got three music show awards, two on Mnet's TV show M! Countdown: on January 16, being their first ever music show win,[1] and on January 30;[2] and one on KBS' Music Bank on January 17.[3]
Charts
Chart
Peak
position
Gaon weekly albums chart
2[4]
Gaon weekly retail albums chart
1[5]
Videos
Album
Good Guy
Gallery
Main article:

FIRST COLLECTION/Members Teasers
Images
Videos
Package
Trivia
"

Like The Hands Held Tight

" was performed during the comeback week performances in the music shows.
References
External Links